My name is Faith Granger and I am the creative force behind the Award winning, critically acclaimed feature film "DEUCE OF SPADES". Many have asked me what inspired me to make this film, what my background in filmmaking was and how I pulled it off. So let me tell you a little bit about the story behind DEUCE OF SPADES.

This info page comprises of four sections:

1. THE FILMMAKER : A little about myself, the woman behind this film.

2. THE FILM : Everything you want to know about my film.

3. THE CAST : Meet the talented actors who brought the script to life.

4. THE DEUCE: Basic information about the deuce, the star of the film.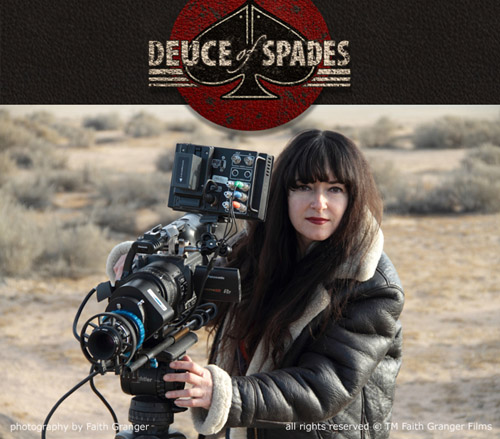 Originally from Nice, (France) I was raised in Beirut where I survived a civil war and lived through many years of hardship. This experience built character and made me who I am today. War and destruction were sweeping the land all around me and I learned a new appreciation for life, people and most of all, a loving God. Finding refuge in spirituality and artistic creation, I have always been first and foremost a songwriter, starting at the early age of 12. At age 15 I was given a National Award for "Best New Artist". At age 18, I helped launch a FM radio station that would become the number one FM station in Lebanon (and last I checked, still is today).
Longing for peace and for artistic growth, I left Lebanon and traveled for two years. I then landed in Los Angeles in the late eighties, with the goal to work on my craft and pursue my music journey, and have been residing here ever since. The US were to become my homeland and country, where I felt I belonged most. But I do consider myself a citizen of the world with a heart without borders.
I continued to pursue music, my passion, for many years, releasing two records on my independent label "Abrasive Records" and performing over 500 live shows with my modern rock band ALTERNATE FAITH. A self taught multi-instrumentalist, I played guitar, sitar, oud, mandolin on stage while delivering both western and eastern vocals. I also produced and ran my own recording home studio. Because of the necessity to promote my band I started toying with video editing, creating small promos for ALTERNATE FAITH over the years. I discovered I had quite the knack for it and truly enjoyed the process.
Writing was another of my love, and it started with poetry when I was 12, soon moving to songwriting. I wrote a first screenplay when I was 22 but was to not write another one until I started working on DEUCE OF SPADES in January of 2007.
As a teenager, I enjoyed performing arts and was in a theater group. Acting came very naturally to me. Becoming a professional actress however never had much of an appeal to me and even though I enjoyed acting, it could not possibly compare to the fulfillment I felt when singing my own songs and pouring my heart out to an audience through them. For that reason, I did not pursue a career in the film industry when I came to Los Angeles, despite the opportunities.
Another passion of mine was for anything mechanical. It started with motorcycles when I was 13 and soon I was tearing my dad's car two barrel carburetor and cleaning it for him. I remember walking into our living room one day, when I was 14, and asking my father, out of the blue, to explain how a car worked. As he went on about pistons, compression, ignition, cam and overhead valves, I found myself both fascinated and delighted. I picked up a book about mechanics and started devouring it. I believe my passion for cars came from my grandfather, who was a mechanic himself and ran his own shop, quite successfully so, until a tragic car crash claimed his life. He was only 32. I never had the chance to meet him but he must be smiling upon me now as I carry the torch and create this hotrod film, a tribute to the golden era of the automobile.
A hopeless idealist with a good head on her shoulder, I am a "move mountain" "do it yourself" renaissance woman who believes anything is possible, with a little faith and if you put your mind to it. I enjoy learning and constantly need new challenges to keep my mind stimulated. In short, everything you need to pull off a full feature period film on a zero budget and entirely by yourself.
A self taught cinematographer, I found that perhaps making films might have been my calling all along, but I was too busy with music to hear it... It just seems to come naturally to me. I can waltz in on a set, do everything from A to Z, film an entire scene without a story board or even a shot list and waltz out and it will edit seamlessly (as well as look very professional). This phenomenon has puzzled quite a few of my industry 'pro' friends. "How does she do it?" commented Blue Nelson, a filmmaker friend of mine who has worked in the film industry all his life: "It costs us lots of money to make a shot look good and she does it effortlessly, with no crew and on a zero budget".
Working on a zero budget can be real rough by the way. I have been known to film standing up for 12 hours straight, with no time to break for food and on occasion no time for a bathroom break either. I will then sleep for 3 to 4 hours and start again the very next day. One night I had to sleep sitting in my truck after a 16 hour filming day and then filmed all day the next day. Most people who see me work on my set wonder: "You never stop for a second! You're moving so fast you are a blur: How do you have the energy to do this?"... Blame it on Passion. It is the force that drives me, and it drives me hard. But I am like a jalopy: I just got to GO GO GO! Built for speed and tough as nails. I take a beating but I keep on revving !
I usually work with a crew of one or two people plus me. Although this was initially due to my lack of budget, it has now become a preference and I enjoy traveling light. Less people on the set means less distractions and it is easier to shoot "run and gun" this way, flying under the radar. I have done quite a few shoots with no crew at all. Just me and my actors. I actually really like to film alone and favor it whenever possible. I currently have over 1500 hours behind the camera and can frame, pull focus, monitor sound and direct all simultaneously. In fact, I can't do it any other way, I have the need to be completely submerged in the filming process when I shoot a scene.
It has been extremely gratifying to see all this HARD work pay off and witness my film project snow balling into epic proportions, none of which I ever dreamt could be possible. Emmy award winner and three times nominee Patrick Ciccone ("Independence Day", "Sideways" and over 150 other major studio releases) offered to help mix the film as soon as he saw it. Him and his team donated an amazing 5.1 theatrical surround sound mix, done at Electric Entertainment's top Hollywood facility. In July of 2010, Sony Creative Software became aware of my film, which was edited in Sony Vegas Pro, and immediately offered me an endorsement. I have graced the cover of several magazines and been featured on National and International television. I have been getting "hats down" from both the filmmaking community and car community. With a six minute long standing ovation at the end of the WORLD PREMIERE screening of DEUCE OF SPADES, and eloquent feedback from the worldwide audience who is calling the film a "Masterpiece" "timeless Classic" "World class cult film" it is now proof that Little Faith + Big God = Great results!!
DEUCE OF SPADES and the story behind its making continue to touch and inspire people every day, everywhere in the world.
"Thank you for making this movie - You brought my youth back!" or even: "I didn't think it was possible but after looking at your movie trailer, you have inspired me to finally get started on my own movie and do it myself" and sometimes: "You inspired me to start working again on my hotrod, which had been sitting in the garage for 5 years now, untouched. I can't wait to finish it and drive my roadster and I am going to keep it old school, just like your car in the film"
If I can touch and inspire people with this film, I will have already been blessed ten times over. This is the true reward and I could not hope for anything more.

DEUCE OF SPADES - A Faith Granger Film
Genre: Period Drama
Runtime: 128 minutes
AWARDS: "BEST FEATURE FILM" (3 times winner), 'BEST CINEMATOGRAPHY", "BEST SCREENPLAY" and "BEST EDITING"
Language: English
Subtitled in: French, Spanish, Italian, German , Swedish, Finnish, Danish, Dutch and English (for the hard of hearing).

PARENTS CAUTIONED:
Some language, violence and adult situations.


Release date: January, 2011.

Tag line: DO YOU BELIEVE IN SECOND CHANCES?
Plot summary:
When a modern day hotrod girl finds a mysterious letter dating back to the fifties hidden in her roadster, she is left with nothing but questions… Who is Johnny Callaway? She sets out to find the answers and retrace her deuce's troubled past. Fast hotrods, cool cats, gravity defying swing dancing and rockin' retro music all serve as a colorful backdrop to this heartfelt, inspiring story. Discover an underground scene where counter culture is in, old school is cool and nostalgia forever reigns.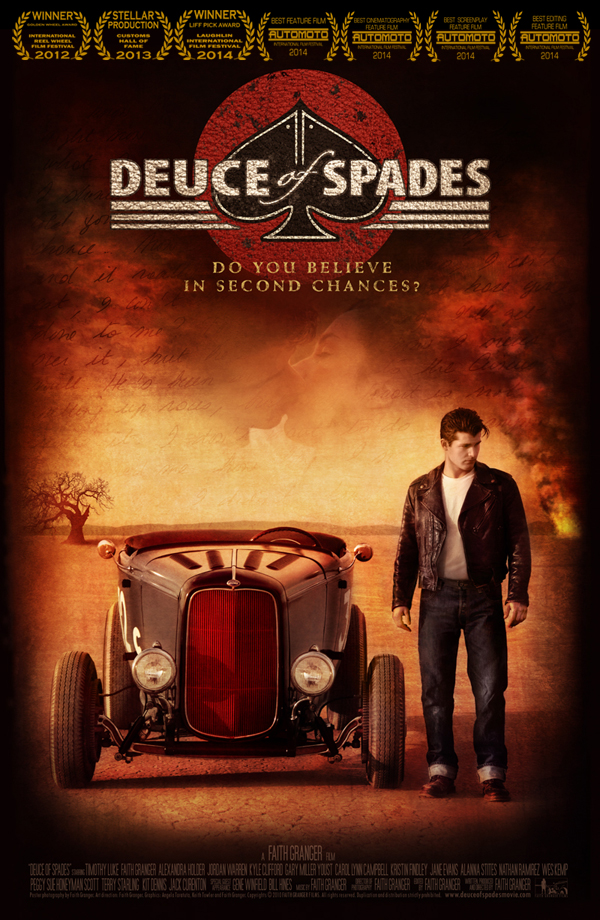 I cannot start to talk about the film without first mentioning my 1932 Ford Roadster, the love of my life. The Deuce came into my life in August of 2006, after over 6 months of intense searching for a 32 Roadster. I had always wanted one but finances did not permit. Now that I was taking a break from music, I had the chance to save a little money and decided it was time to bring a deuce into my life. For more info on how I bought the car and the car itself please see section 4 (the car). Now at the wheel of my Deuce, with a smile going from ear to ear, and bugs in my teeth, I was actively cruising, meeting other hotrodders, going to every car show, car meet, car cruise, car anything I could find and basically, having a blast with my hotrod. I made many many many hotrod friends that way. I especially enjoyed learning how to do repairs, and the bonding between man and machine that results when your work on your own rod.
In January of 2007, the nation was celebrating the 75th Anniversary of the Deuce and I decided to contribute by making a one hour home made documentary about women and 32 Roadsters, called "LAST OF THE HIBOY GIRLS", honoring the female pioneers of hotrodding who paved the way for women like me, such as Veda Orr. I played my documentary next to my Deuce inside the Suede Palace at the Grand National Roadster Show, where my car was displayed. To my surprise and delight, I found that people kept flocking to watch it. I saw the huge smile on their faces and how happy they were to see this film about a Deuce and I became inspired to try my hand at a full feature film next, which would be, needless to say, about a Deuce Roadster. At the time I thought this was by far the craziest idea I had ever had and would be the most challenging undertaking to date. So you bet I had to do it and I had to do it NOW: I got started on it a mere two weeks later.
The rest is history!
Pulling out my screenplay writer hat out of the closet once again, I started working on writing the script. The idea, inspired by true events, was that a modern day hotrod girl stumbles upon a barn find and buys it. While restoring it she accidentally discovers a love letter dating back to 1955 in a sealed, stamped envelope. The letter was never mailed but rather, ended up stuck behind the seat, inside one of the quarter panels. Opening the letter will be like opening Pandora's box for the girl. Her peaceful world is now caught in a real whirlwind as she sets out to discover the truth behind the mysterious letter and the dark past of her hotrod unravels. Who is Johnny Callaway, the man behind the letter? As the girl starts to uncover the truth, we retrace the steps of Johnny, who owned the DEUCE OF SPADES, the fastest street car in the area from 1952 to 1955.
With over 90 minutes of flashbacks showing the 50's era, the film aims at bringing the old jalopies back into the spotlight, resurrecting the "good old days" of hotrodding and bringing a slice of Americana back to life. It is my tribute to all the hotrodders who were a part of it. The film is a pure labor of Love and to retain the integrity of my artistic vision, I knew I would have to do it myself and keep investors, corporate funding and the film industry basically "out". Which meant going out on a limb financially and dumping every last dime I had (and quite a few more I didn't have), into the film. And putting myself at financial jeopardy in the process. Retirement funds, savings, checking funds were all spent in order to complete the film. It could have been very tempting to accept help and sell out. But, turning down opportunities from investors who started knocking at my door after hearing about the project, I remained true to my goal of making this one of the most compelling "do it yourself no budget completely independent period film of epic proportions". A very ambitious undertaking in deed. Could it be done? One woman behind her camera, doing it all, not unlike what Chaplin used to do, being involved in every aspect of the pre-production, production and post production process. My duties included: Writing the script, casting the actors, scouting the period correct locations, purchasing all the gear needed and learning how to use it, directing, producing, filming, being the Director of Photography, doing set decors, props, hair and make up, wardrobe, as well as special effects. Last but not least, editing the footage, doing the sound design and providing some of the soundtrack and scoring. And I also got to play a vital cameo part in the film: The deuce's owner in the modern days, the hotrod girl. I would be united with my deuce on screen as I am in real life.
I filmed this feature on weekends, working around my day job schedule. I filmed a scene per day - aka two scenes per weekend, which I would then promptly edit that same week. I basically filmed non stop every single weekend for two years. Every week-end without fail. I started rolling in October of 2007 and stopped rolling in October of 2009. In the process of making this film, I actually got to make two films: After buying my gear, I had to test it and teach myself the ropes to become my own DP. So I wrote, produced and directed a first 35 minute short entitled "THE PARK BENCH", which was completed in three months. Having successfully completed this test run, I immediately started rolling on DEUCE OF SPADES.
Filming the flashback scenes was extremely challenging. Finding period correct locations for free was a near impossible task, but many miracles happened along the way and somehow, providence seemed to always provide me with what I needed, just in time. It put people on my path that would become instrumental in helping me fulfill my mission. It inspired strangers to contact me offering their help. And it kept happening, over and over again. We called this strange, wonderful phenomenon "the Deuce Of Spades miracles".
Just about everything in the film was donated: Period correct locations, cars, crew and cast. Thanks to the help of my many friends in the local hotrod community, I was able to pull off on a ZERO budget, what it would cost a major studio a good million dollars to film, if not more.
In the end, my extreme dedication, tenacity and loyalty to the project would pay off.
After a year spent in post production, DEUCE OF SPADES was edited to a 128 minute length, ranking in length right alongside period dramas such as "Fried Green Tomatoes", "The Notebook", "Master and Commander", "The Curious Case of Benjamin Button" etc... It features about 65% of period flashbacks and 35% modern days scenes. Included in the film are a 1955 flashback dragstrip scene, two 1953 flashback street racing scenes, including a cop and jalopy chase, a 1955 night deadly street race and phenomenal crash, 1953 flashback gas station scene, 1953 flashback dry lake racing scene, 1953 flashback swing dancing (featuring the world's champion Lindy Hop dancers). In the modern day section: A car show, dry lake racing (STCA), a car meet, a group cruise and more...
DEUCE OF SPADES is truly a hotrod movie at the core. Made by a hotrodder, portraying the car culture of yesterday and today, it promises to delight car enthusiasts worldwide and has already established itself as a one-of-its-kind cult film. But DEUCE OF SPADES also goes well beyond hotrods: The compelling plot and powerful human interest story make it a promising candidate for broad appeal, thus re-introducing the old hotrods to the general public. Initial Test Screenings showed that male and female audiences alike loved the film and preliminary ratings came out with an amazing 9 stars out of 10!! 95% of DVD buyers who attended the screenings stated they wanted to buy the DVD, see the film over and over again and wanted to also go see it on the big screen.
In May of 2010, NETFLIX, America's largest film rental company, arbitrarily decided to add DEUCE OF SPADES to their film listings! Despite the fact it was not yet completed nor ever submitted to them!! As the worldwide Buzz about DEUCE OF SPADES continues to grow each day, the 'ambitious and daring indie no budget film entirely done by a single woman with a vision', is rising to the top and gaining pro level status, and in doing so continues to inspire. It is living proof that Dreams can come true, with hard work... And a little faith!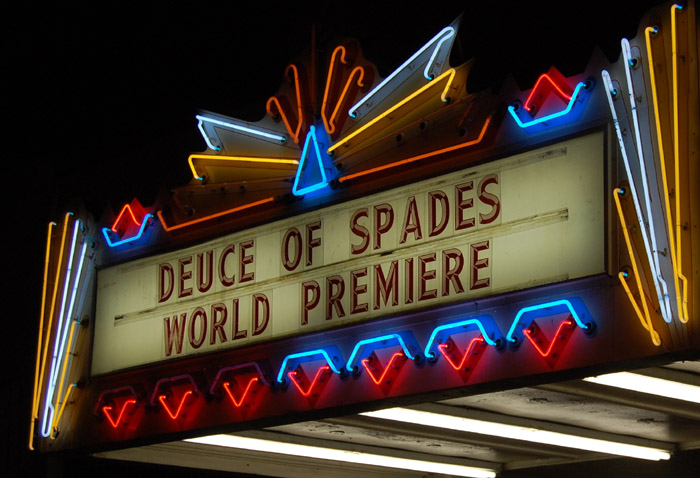 On November 14th, 2010, DEUCE OF SPADES opened up at the oldest running theater in the country: Fillmore's very own Towne Theater (built in 1916).
People lined up for over an hour to attempt to get tickets to see the film but both screenings had already long sold out. The historic downtown area of Fillmore, CA, where some of the film action takes place, was closed to traffic for the event and Central street was lined up with hotrods, looking just like it used to back in the days. Bands featured in the film performed cuts from the soundtrack on the steps of the City Hall and several thousand people crowded the entrance of the theater to catch a glimpse of the stars of the film roll in in gorgeous classic cars and walk the red carpet. With a World Premiere event worthy of any Hollywood big studio, DEUCE OF SPADES was off with a big bang, promising to become the Super Nova of hot rod films.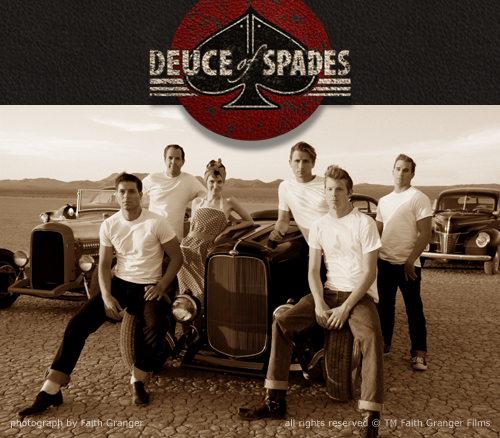 With a large cast comprising of well over 140 talented actors, DEUCE OF SPADES features up and coming Hollywood talents. The cast has major studio caliber and all have donated their time and labor to the cause. A hard core, dedicated bunch, the young actors oftentimes helped me in moving gear, preparing sets, setting up lights and more. Conditions on the set were rough at best, and sometimes outright horrible, yet none of my actors quit on me. In fact it seemed they would have followed me to the edge of the earth and jumped off it with me, had I just asked. The boys once were forced to sleep in a trailer without any A/C while filming in the desert in August, with temps soaring at over 115 F and to shower out of a garden hose. None of them ever snapped, or even complained once. Tim McReynolds, our lead man, slept on a cot under the stars many many nights, sometimes sleeping next to the gear to guard it. On the set we had the best vibe, both cast and crew comprised of truly wonderful people and I was blessed to work with them for the past two years.
The main cast comprises of:
Timothy Luke..........................JOHNNY CALLAWAY
Faith Granger......................... FAITH
Alexandra Holder..................... BETTIE THOMPSON (Johnny's girl)
Kyle Clifford........................... ART DELANEY (Johnny's best friend)
Jordan Warren.........................TOMMY MILLER (Johnny's buddy and Saugus dragstrip flagman)
Gary Miller Youst......................JOHNNY CALLAWAY
Nathan Ramirez........................JOHNNY CALLAWAY
Carol-Lynn Campbell..................BETTIE THOMPSON
Kristen Findley.........................SANDY (Art's girl)
Alana Stites ...........................PEGGIE (Bettie's friend)
Frank O'Leary..........................TONI CROSCIATO aka "FRESNO" (Johnny's new rival)
Peggy Sue Honeyman Scott...... JEANNE CALLAWAY (Johnny's mother)
Wes Kemp...............................JAMES CALLAWAY (Johnny's father)

SPECIAL GUEST APPEARANCES & CAMEOS:

Gene Winfield......................... GENE WINFIELD
Bill Hines.................................BILL HINES



The real star of the film is the undoubtedly my Deuce. The Deuce originated from Minnesota, a restoration project that remained a rolling chassis unfinished project from the early seventies until 2002. After changing hands no less than 9 times it landed in Long Beach, California were I discovered it. An unexpected move forcing the current owner to sell all his hotrods, I was extremely excited to make an offer and snatch it from under the nose of three other buyers. After taking the Deuce for a test drive, and immediately feeling "right at home" behind it's 53 Chevy custom steering wheel, I knew "he" was "the One".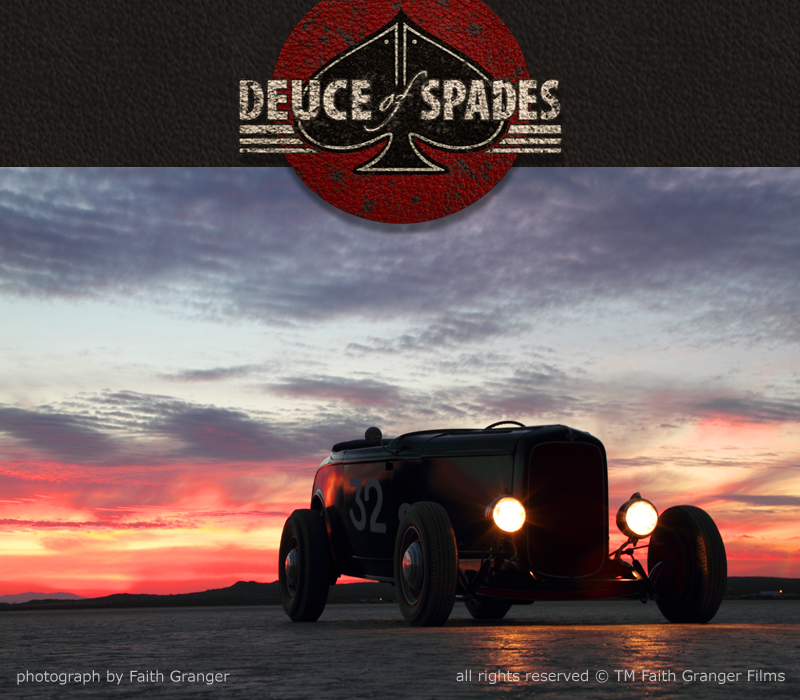 It was a perfect match and pretty much love at first sight. Since then, the Roadster and I have become inseparable. Although I do have a utility truck for everyday driving, I find myself taking the deuce out a good three times a week, whether it be to drive to work, go cruising or even simply run errands. Over the last three years, I have done quite a bit of work on it, most of it myself with the help of friends. I still have everything to learn but I am learning fast. Many improvements were implemented: I gradually reverted it back to a 50's period correct look, replacing the radial tires with tall skinnies bias plys, bumping up the rear wheel size to 16 inch while keeping the 15 inch in the front. I put a 1932 plate on it, an old school license plate light, replaced the alternator with a period correct powergen, restored the fifties Rochester tri-power and got it running again, replaced the rubber lines with hard line, had the front suspension and steering shaft done (this work was done at a pro shop), put glass packs on it, redid the truck panels with nostalgia nogahide, redid the finish on the instrument cluster panel, the hair pins, the headers. Two volunteers from the Gene Winfield race team came to help me tear out every electrical wire and entirely redo the wire harness. I put old school cloth covered wires under the hood, doing all connections the old fashioned way, no plastic and no crimping. Last but not least, I prepped and re-primered the body and had a painter give it a dull gloss black paint job. The deuce then was sent for carpeting. It was now ready for the film.
The Deuce sports a 1953 Chevy steering wheel with a very special custom horn button sporting a Spade in it (hence its nickname the "DEUCE OF SPADES"). It also features original '41 brakes in the front with Buick finned drums, an original frame, nose and grill insert, original 1932 radiator and gas tank, louvered original hood with custom solid sides. Gauges are Stewart Warner and I polished the gauge insert as well as my hair pins, to give them a cool, faded bare metal look. The Roadster is understated with no billet of any kind on it and very little chrome. It has no pinstriping either. Elegant yet 'jalopy-like' it is very nostalgia and reminiscent of the mid fifties, looking very similar to the '32 Roadster portrayed in the 50's hotrod flick "The Devil On Wheels". The Deuce is currently powered by a small block overhead valve engine, Chevy made, with old school Edelbrock finned valve covers and a mid fifties Rochester true tri-power. I have been driving it without a windshield for nearly three years now.
If I made this film and have now become a filmmaker, it is probably solely because of my Deuce. Without the Deuce I would have never made a documentary and I would then never have been inspired to make a hotrod film, and become a filmmaker in the process. This will be my biggest accomplishment to date and by far the most exciting adventure I ever embarked on. The journey is not over quite yet as I strive each day to spread the word about this very special film. One would think all this hard work is more than anyone can handle in a lifetime. Yet I recently found myself compelled to write down ideas for.... A sequel????
With a little luck, if all goes well, maybe, just maybe, one day I will film that, too.
Thank you for your support and for helping me get the word out about this worthy endeavor.
Many blessings,

FAITH GRANGER
Filmmaker