FILMMAKER FAITH GRANGER ANNOUNCES THE RELEASE OF
THE DEUCE OF SPADES SOUNDTRACK

CLICK HERE TO PREVIEW THE SOUNDTRACK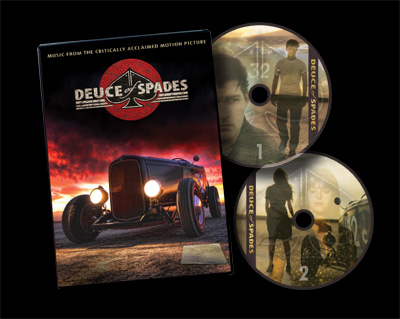 The DEUCE OF SPADES soundtrack double album is now available and shipping! Now you can take the amazing music of the film with you wherever you go. Relive those great moments!!

The Soundtrack comprises of two discs:
1. Disc One features the 50's music from the film, 19 great cruising tunes for you to enjoy while driving your hot rod or classic car.
2. Disc Two features the haunting voice, songs and scoring of Faith Granger, as heard in the film. Disc Two also features short excerpts from the film dialogues, so you can relive those great DEUCE OF SPADES moments while listening to the music.
CLICK HERE TO HEAR SNIPITS OF THE SOUNDTRACK'S MUSIC
The double CD soundtrack is packaged in a DVD case to perfectly compliment the film DVD and is the second item to collect out of a 3 item Special Edition set. Next year Faith Granger will be releasing the third item: A Bonus DVD, which will feature deleted scenes, bloopers, behind the scene footage, the cars of DEUCE OF SPADES, and interviews with the main cast members. A slip case will be released at that time, which will neatly fit all three items. Fans of DEUCE OF SPADES will be able to gradually build their own Special Edition set!
Help me raise money to finance installment TWO of DEUCE OF SPADES (sequel) by purchasing the limited edition soundtrack: Do you have one of the collectible hand numbered DVD or wish you had? Now is your chance to get a hand numbered, autographed soundtrack, while they last. Numbers are assigned on a first come first serve basis. Order early to get those very valuable lower numbers. Plus you will be first in line to have your product shipped when it is ready. These hand numbered Soundtrack albums will be limited to only 3000 copies. They will accrue in value more and more each year. For those of you who are in the possession of one of the limited edition hand numbered film DVD, this is your chance to complete your collectible set.

All proceeds from the sales of those hand numbered, personalized Soundtrack albums will go towards raising the necessary funds to hopefully be able to film installment two of the DEUCE OF SPADES trilogy. If you have loved the first installment and would like to see the other two and hear the rest of Johnny Callaway's dramatic story, please support this worthy endeavor and order the personalized Soundtrack. It will be well spent money in deed.