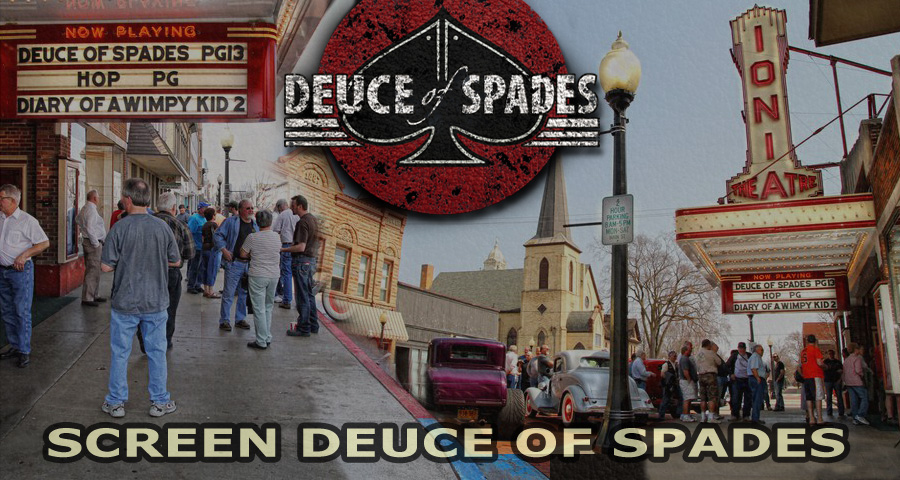 Understanding copyrights:

The Federal Copyright Act (Title 17, United States code, Public Law 94-553, 90 Stat. 2541) governs how copyrighted materials, such as movies, may be utilized publicly. Neither the rental nor the purchase or lending of a videocassette or DVD carries with it the right to exhibit such a movie publicly outside the home, unless the site where the video is used is properly licensed for copyright compliant exhibition.
This legal copyright compliance requirement applies to theaters, car shows, museums, conventions, shops, buses, planes, parks, campgrounds, colleges, universities, public schools, day care facilities, summer camps, churches, private clubs, prisons, lodges, businesses, etc. regardless of whether admission is charged, whether the institution is commercial or non-profit or whether a federal, state or local agency is involved.

Faith Granger Films, LLC is the only party authorized to license "DEUCE OF SPADES". So if you are wanting to screen this film outside the privacy of your own home (such as at a car show, event, theater, club meeting, shop, bus, etc…), you need to apply for a license first.
A message from Faith Granger, the filmmaker:
You might wonder why film companies charge a fee for a screening license: Even if you don't intend to charge the audience to see a film (make money from screening) the filmmaker needs to be compensated. The reason is simply because by showing the film you are giving away the story to all who come to the screening and those people, who now know how the story goes and ends, no longer have a need to purchase the DVD to see the film. Cause they just did (see the film). Cause you showed it to them. Hence serious DVD sale income loss for the filmmaker. A lot of blood, sweat and tears went into the making of this film, and a lot of sacrifices. Our DVD sales alone allow us to pay our bills, keep a roof over our heads, recoup the massive costs of making the film and raise funds to make the next one. Losing a lot of DVD sales without any compensation is like hemorrhaging: Not something any filmmaker can afford. Especially not a small indie filmmaker like me. Hence the licensing fee, to compensate at least a bit. It is a fair, deserved payment for 4 years or hard work. So please don't steal the film and do this right.
Publicly showing a film without proper license is a federal crime punishable by up to $250,000.00 fine and 5 years in prison.
So don't skip this step. The good news is, obtaining the proper legal license from me is actually an easy process. I will do my best to assist you, help you out, even provide you with flyer graphics for your event promotion etc...
Please fill the form below to get started. I will then contact you with a quote.
Many thanks for your support and God Bless.