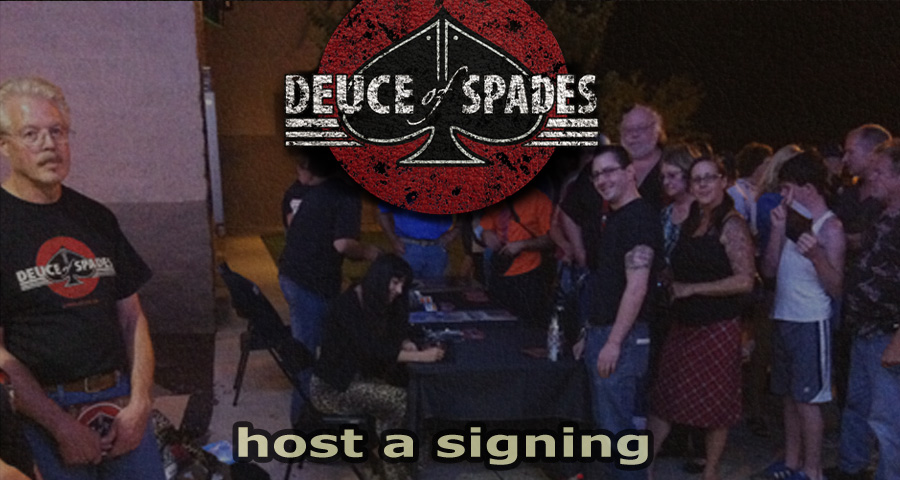 HOST A DEUCE OF SPADES 'MEET & GREET ' AT YOUR LOCATION
NOTE: Basic "Meet and Greets" events do not include a screening of the film. If you are wanting to screen the film that day, please click here and fill that form instead.
If you are located on or near our route and would like to host a signing, we might be able to fit you into the schedule.
We are willing (and oftentimes able) to make a small detour to include your town in our tour. However, in order to include you into the tour schedule, your event will have to be planned according to our tour schedule, on the date we are scheduled to come through your area. So be willing to be flexible as to what date we can give you.
We will bring the star car of the film, so it can be on display at the location and I will make a celeb appearance and personally greet the guests, sign autographs, be available for photos, answer questions etc...
Last but not least, we will have all the goodies people want to buy (signing table, DVDs, Tees, posters, car plaques, prints, beanies etc etc...)

So if you have a hot rod shop, a diner, museum, or host a car meet, or even have a big house and would like to host a DEUCE OF SPADES signing party, fill this easy form to send us your info and we will contact you if we are able to add you to our tour schedule as an official DEUCE OF SPADES signing party.
Many thanks for your support and God Bless.