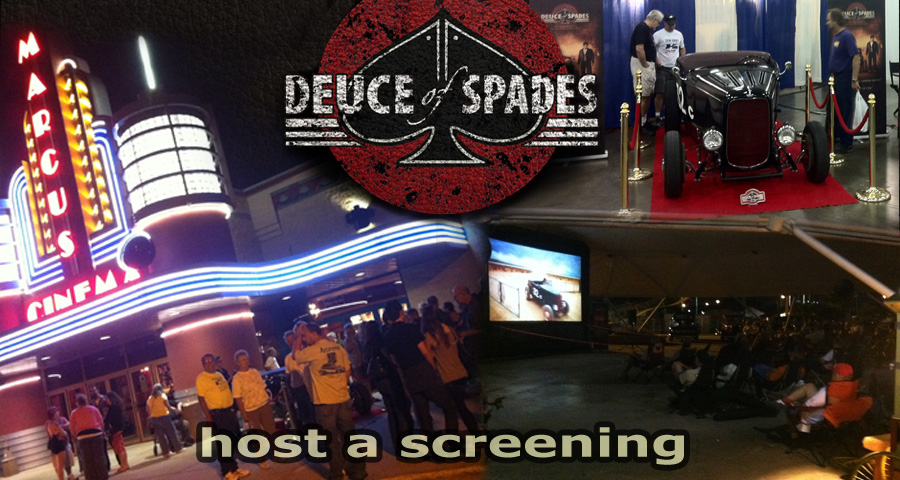 You do not need to have a theater or access to one to host a screening of DEUCE OF SPADES!
A hot rod shop, hangar, warehouse, club house, church, school, field, parking lot will do the job just fine. We can provide the entire pro cinema system, consisting of a pro screen with image size of 16 feet wide by 9 feet high, a 7000 Lumen dual bulb pro SONY projector, mixer, wireless mic system for the introduction by the filmmaker, and two 1000W self powered speakers. We have a pro inflatable screen for outdoors screening and also have a metal frame screen set-up for indoors screenings. You provide the location and audience. We sell admission tickets at $10 per person.
The above cinema system costs around $1,000 to rent and will be provided at no charge.
We will also bring the star car of the film, so it can be on display at the screening and I will make a celeb appearance and personally introduce the film, sign autographs, answer questions etc...
Last but not least, we will have all the goodies people want to buy (signing table, DVDs, Tees, posters, car plaques, prints, beanies etc etc...)
In short, all above will add a huge production value to your event, which is guarantied to bring a lot of excitement to your local car community.
Please fill this easy form to send us your info and we will contact you to discuss details (such as ticket sales proceeds split) if you are added to our tour schedule as an official DEUCE OF SPADES screening.
Many thanks for your support and God Bless.