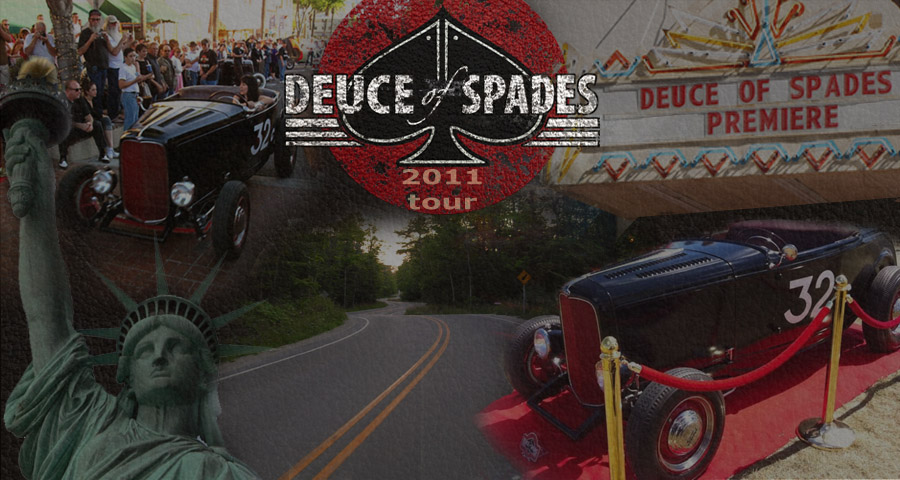 u Become a Tour Angel! If you can host our RV for a few nights by providing a safe overnight parking
spot in your driveway or on your property click here
u If you would like to host a DEUCE OF SPADES screening at your location click here
u If you would like to host a DEUCE OF SPADES 'Meet & Greet" signing at your hot rod shop,
diner, house, car club meeting or car meet, click here
u If you are an event promoter, have an event that coincides with our tour route & dates,
and would like to bring us to your event click here
2011 U.S.A TOUR map

Tip: Click on the map below to see the full size version.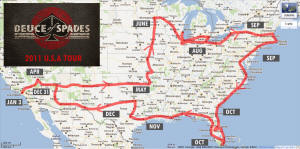 2011 U.S.A TOUR detailed itinerary

The following dates are subject to change, but this schedule is not likely to change dramatically. If you are located very close to these locations, we might be able to squeeze you into the tour schedule. Go to top of page and select the appropriate link to contact us.
WHAT THE COLORS MEANS:
Dates highlighted in yellow are confirmed events. Click on red hyperlinks next to the dates to access the flyer for a confirmed show. New events pop up on an almost weekly basis so check back regularly.
Dates highlighted in orange are tentative plans of doing an event, that have not yet been finalized.
Dates highlighted in green are confirmed screenings of the film that do not include a personal appearance of Faith or the Deuce (location or timing did not coincide with the route, so a personal appearance was not possible)
Want to receive an email invite to any event near you? Join our notification list now.

Tip: If a location is underlined, click on it to access event info /flyer.

| | |
| --- | --- |
| Monday, September 19, 2011 | RI - Newport |
| Tuesday, September 20, 2011 | RI - Newport |
| Wednesday, September 21, 2011 | RI - Newport |
| Thursday, September 22, 2011 | NY - Bloomingburg |
| Friday, September 23, 2011 | NY - Bloomingburg |
| Saturday, September 24, 2011 | NY - New York |
| Sunday, September 25, 2011 | NY - New York |
| Monday, September 26, 2011 | NY - New York |
| Tuesday, September 27, 2011 | DC - Washington |
| Wednesday, September 28, 2011 | DC - Washington |
| Thursday, September 29, 2011 | DC - Washington |
| Friday, September 30, 2011 | VA - Mechanicsville |
| Saturday, October 01, 2011 | VA - Mechanicsville |
| Saturday, October 01, 2011 | IL - Rantoul |
| Sunday, October 02, 2011 | VA - Mechanicsville |
| Monday, October 03, 2011 | To Be Determined |
| Tuesday, October 04, 2011 | NC-Concord |
| Wednesday, October 05, 2011 | NC - Concord |
| Thursday, October 06, 2011 | NC - Columbia |
| Friday, October 07, 2011 | SC - Charleston |
| Saturday, October 08, 2011 | SC - Charleston |
| Sunday, October 09, 2011 | GA - Savannah |
| Monday, October 10, 2011 | GA - Savannah |
| Tuesday, October 11, 2011 | FL - Jacksonville |
| Wednesday, October 12, 2011 | FL - Tampa |
| Thursday, October 13, 2011 | FL - Tampa |
| Friday, October 14, 2011 | FL - Tampa |
| Saturday, October 15, 2011 | FL - Tampa |
| Sunday, October 16, 2011 | FL - Tampa |
| Monday, October 17, 2011 | FL - Tampa |
| Tuesday, October 18, 2011 | FL - Tampa |
| Wednesday, October 19, 2011 | FL - Orlondo |
| Thursday, October 20, 2011 | FL - Orlondo |
| Friday, October 21, 2011 | FL - Daytona Beach |
| Saturday, October 22, 2011 | FL - Daytona Beach |
| Sunday, October 23, 2011 | FL - Daytona Beach |
| Monday, October 24, 2011 | FL - West Palm Beach |
| Tuesday, October 25, 2011 | FL - West Palm Beach |
| Wednesday, October 26, 2011 | FL - West Palm Beach |
| Thursday, October 27, 2011 | FL - Fort Lauderdale |
| Friday, October 28, 2011 | FL - Miami Beach |
| Saturday, October 29, 2011 | FL - Florida City |
| Sunday, October 30, 2011 | FL - Keys |
| Monday, October 31, 2011 | FL - Keys |
| Tuesday, November 01, 2011 | FL - Keys |
| Wednesday, November 02, 2011 | FL - Keys |
| Thursday, November 03, 2011 | FL - Keys |
| Friday, November 04, 2011 | FL - Bradenton |
| Saturday, November 05, 2011 | FL - Bradenton |
| Sunday, November 06, 2011 | FL - Bradenton |
| Monday, November 07, 2011 | FL - St Petersburg |
| Tuesday, November 08, 2011 | FL - Tampa |
| Wednesday, November 09, 2011 | FL - Ocala |
| Thursday, November 10, 2011 | FL - Tallahassee |
| Friday, November 11, 2011 | FL - Tallahassee |
| Saturday, November 12, 2011 | FL - Pensacola |
| Sunday, November 13, 2011 | FL - Pensacola |
| Monday, November 14, 2011 | AL - Mobile |
| Tuesday, November 15, 2011 | AL - Mobile |
| Wednesday, November 16, 2011 | LA - New Orleans |
| Thursday, November 17, 2011 | LA - New Orleans |
| Friday, November 18, 2011 | LA - New Orleans |
| Saturday, November 19, 2011 | LA - New Orleans |
| Sunday, November 20, 2011 | LA - New Orleans |
| Monday, November 21, 2011 | LA - New Orleans |
| | |
| --- | --- |
| Tuesday, November 22, 2011 | Baton Rouge, LA |
| Wednesday, November 23, 2011 | Baton Rouge, LA |
| Thursday, November 24, 2011 | Baton Rouge, LA |
| Friday, November 25, 2011 | Baton Rouge, LA |
| Saturday, November 26, 2011 | LA - Lake Charles |
| Sunday, November 27, 2011 | LA - Lake Charles |
| Monday, November 28, 2011 | TX - Houston |
| Tuesday, November 29, 2011 | TX - Houston |
| Wednesday, November 30, 2011 | TX - Houston |
| Thursday, December 01, 2011 | TX - Houston |
| Friday, December 02, 2011 | TX - Austin |
| Saturday, December 03, 2011 | TX - Austin |
| Sunday, December 04, 2011 | TX - Austin |
| Monday, December 05, 2011 | TX - Dallas |
| Tuesday, December 06, 2011 | TX - Dallas |
| Wednesday, December 07, 2011 | TX - Dallas |
| Thursday, December 08, 2011 | TX - Abilene |
| Friday, December 09, 2011 | TX - Abilene |
| Saturday, December 10, 2011 | TX - Gardendale |
| Sunday, December 11, 2011 | TX - Gardendale |
| Monday, December 12, 2011 | TX - TBD |
| Tuesday, December 13, 2011 | NM - TBD |
| Wednesday, December 14, 2011 | AZ - Tucson |
| Thursday, December 15, 2011 | AZ - Tucson |
| Thursday, December 15, 2011 | NC - Concord |
| Friday, December 16, 2011 | AZ - Tucson |
| Saturday, December 17, 2011 | AZ - Phoenix |
| Sunday, December 18, 2011 | AZ - Phoenix |
| Monday, December 19, 2011 | AZ - Phoenix |
| Tuesday, December 20, 2011 | AZ - Prescott |
| Wednesday, December 21, 2011 | AZ - Prescott |
| Thursday, December 21, 2011 | AZ - Prescott |
| Friday, December 23, 2011 | AZ - Sedona |
| Saturday, December 24, 2011 | AZ - Sedona |
| Sunday, December 25, 2011 | AZ - Monument Valley |
| Monday, December 26, 2011 | AZ - Monument Valley |
| Tuesday, December 27, 2011 | AZ - Flagstaff |
| Wednesday, December 28, 2011 | AZ - Kingman |
| Thursday, December 29, 2011 | NV - Las Vegas |
| Friday, December 30, 2011 | NV - Las Vegas |
| Saturday, December 31, 2011 | NV - Las Vegas |
| Sunday, January 01, 2012 | NV - Las Vegas |
| Monday, January 02, 2012 | CA - Barstow |
| Tuesday, January 03, 2012 | CA - Los Angeles |